Welcome to Model T Ford - Try and Find the Hidden Doors

If you enjoy old cars you might be at the right spot. If you have or love Model T Fords, Then you do have the right spot. As you search these pages, move your mouse over the images to see if you can find the hidden links. I hope you enjoy what you find.
1922 Model T Ford Touring - and Column by 'Herb Caen'

The Ford that I feature here is a 1922 Touring Model. This car has been in our family for over 58 years. It was bought in San Francisco in the Mission district near the corner of 23rd and Mission St. where you would have found the Model T Ford plant. This car was bought used ( Yes, I know you can do the math ) back in 1944 or 1946 and was driven around the city by Philip and Jane. They enjoyed this car for a few years before buying other cars for the collection. This Model T Ford was shown a few times and used to get to work on occasion as well as for going up north into the Russian River area.
in 1946 HERB CANE wrote in his column called "Baghdad-by-the-Bay" at the start of the Opera Season, "That large, well-dressed gent you see puttering around town in a '22 Model T touring (with no top) is Philip Karp, who plays bass in the S.F. Symph. and finds the ancient crate perfect for lugging around his huge instrument; and when Mrs. K rides with him, resplendent in evening cloths, it makes quite a sight"... I love that article. Later I am told that the fun part which Herb Caen mused, was 'after' the opera the "T" would not start, so Phil at the controls, Jane in beaded gown and fur coat and heals pushed to get it going. Thanks Herb....
Getting ready to start it after 43 years

The first day we got it home we washed it and looked it over to see what condition it was in. It was not much more than just looking under the hood, checking and replacing the oil. Flushing out the old dried rust in the radiator and refilling it. Looking for a 6 volt battery in a 12 volt town. and it was decided that we would clean things up and set a date to see if we could get it started. The next weekend was the date and that week was full of pulling plugs and checking coils and freeing up slow moving parts. On that Saturday we had the car jacked up in the driveway and had video camera running as we put everything into motion. Well, I will only say for now that it did start, and yes, we had some good smoke coming out of it and it did run well. It was agreed that this was all we where going to do. BUT, it all went so well that you know what is coming, we took the car off the blocks and took it down our street. I want to tell you more about that so turn the pages and let me tell you how all this went....


We put -2000- Miles on that car in two years

We drove that car with the same old 50+ year old tires that it had from Ward's. Montgomery Wards was a store for years that you could buy stuff from catalogs. They sold many items and these tires where but a few. We pumped them up with a bicycle pump and they stayed full for over two years. I only changed them later for safety, grin. We joined a club and went on many tours and it almost looked original for sure. But things had to be done. Every tour took it's toll. It was running well at first but each trip took something away from it. It was getting so that if the trip was an over nighter that it had to be worked on a little to get it ready for another day. Then came a tour of all tours. It was told that in the summer of 2003 the month or May a group of folks were going to drive Model T's from California to Detroit for a 100 year birthday celebration of Henry Ford. That was all I needed to hear. I knew I wanted to do this BUT this little car was going to really need some help. As I type this I have been working on a frame off repair that has taken about a year and is soon to be on the road again. After working each weekend and all my vacations with Many very talented folks who know Model T's, I can say that very soon now the car will be taking it's test drive and soon be ready to drive across this country. It is with all this that I felt I needed to find a place to tell this story. This web site is born and have I got photos and stuff to share. If by the end of these pages you do not feel you know more about Model T Ford's than you do right now I will have failed to do this site justest. Come along and see for yourself.

Want To Talk?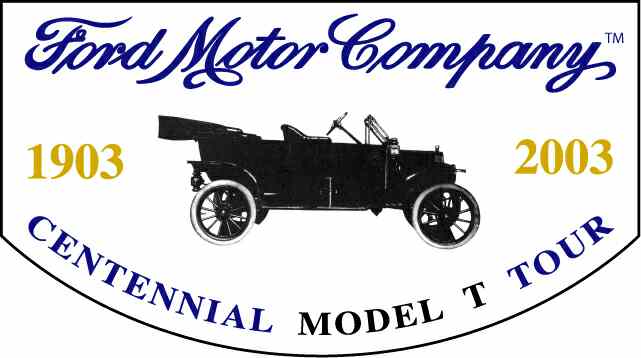 Ford Motor Company - CENTENNIAL MODEL T TOUR - click on image to go to pages, last update on 12/08/02
Find out more on the upcoming CENTENNIAL MODEL T TOUR. We will be driving across the country from L.A. to Detroit for the Ford Motor Company's 100 Celebration of Henry Ford. CLICK on the above logo for more info

More Pictures

This is just a hint, I have a Photo Gallery and I invite you in to enjoy. 100's of shots just for you.

Photographer MailBox